Why Limited Runs?
We source our fabrics from a supplier that buys excess from the fashion houses, you know, the companies that sell coats that cost 5-10x what ours do?  We pay a fraction of the price, but we're often only able to get enough of any single fabric to make 10-20 coats.  This is something a larger company wouldn't be interested in, but for us, it works.  The result is a high quality coat, handmade in NYC from premium fabrics, at a price point that won't leave you scratching your head.
Washington Topcoat
HALF-CASHMERE BUFFALO CHECK
Madison Peacoat
100% ITALIAN WOOL
Café Racer
BLACK ITALIAN LAMBSKIN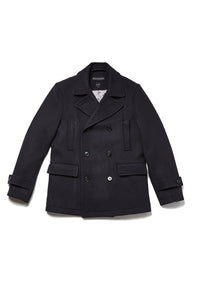 Peacoat
Peacoats were originally designed to be bulky and spacious so sailors could layer up for warmth during stints at sea. Odds are, you're probably not a sailor, and you probably want to look good, too. So we've given our twist on the classic peacoat by adding a modern trim fitting, quilted lining to keep you warm without extra layers, and real horn buttons with a 100% leather undercollar to top it all off. Made in NYC.
Topcoat
Topcoats were created as an answer to a lack of outerwear that provided both fashion and function. Our topcoats are no different, except that we went a bit further by adding traditional half-canvassed construction for durability, classic ¾ length, trim through the body without feeling constricted and real horn buttons with a 100% leather undercollar. Plus, our 1" allowances on the back seam make it easy to tailor for the perfect fit (although we're certain you'll be happy as is).